Event catering
The Sustainable Food Co. is Auckland's premier choice for plant-based and vegetarian catering. Our delicious, eco-friendly catering is perfect for any event and is sure to leave a lasting impression on your guests.
Corporate Catering
When it comes to corporate events, we understand the importance of seamless service and faultless food. By choosing us for your corporate catering, you'll not only impress your guests with your dedication to eco-conscious practices, but also your impeccable taste.
At The Sustainable Food Co. our dishes cater to a wide range of dietary requirements, ensuring every guest can enjoy what's on offer. Whether it's a small team meeting or a large-scale conference, our diverse menu has something for everyone. 
For light bites during meetings and networking sessions, our Assorted Sandwich Platter is a popular choice!
Bridal & Baby showers
Celebrate life's most exciting changes with versatile catering options that please a crowd. From small platters to abundant grazing tables, our plant-based vegetarian catering aligns perfectly with health and eco-conscious values. Keep the girls happy with an Antipasto Platter, one of our most popular choices, filled with an assortment of flavours that set the perfect tone for relaxing with friends and family.
View Our Antipasto Platter
Custom Event Enquiry Form
Are you hosting a larger event or have custom enquiries. Get in touch using the form below. We'd love to hear from you!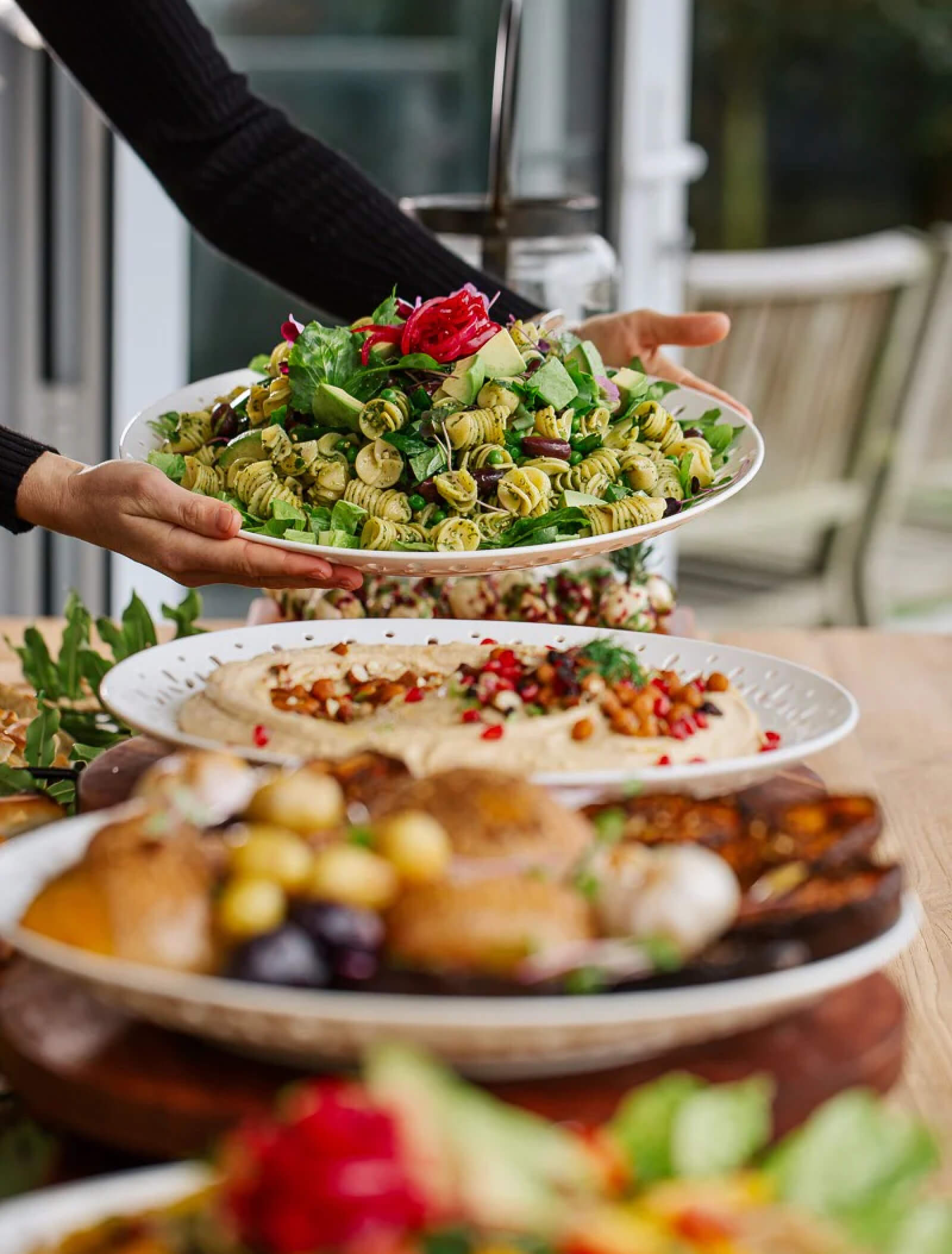 wedding catering
You deserve everything to be perfect on your special day, and our team is here to ensure the catering is a highlight, not a headache. Wedding catering from The Sustainable Food Co. takes away the stress of planning the perfect menu so that you can focus on cherishing every moment. 
Our plant-based and vegetarian offerings not only cater to diverse palates but are also beautifully presented to add to the aesthetics of your special day. Guests will love our sumptuous Buffet Banquet, which is a veritable feast for the senses. 
Are you having an outdoor wedding away from standard facilities? We can even provide the tableware and cutlery. 
Private Functions
No matter what private function you're planning, we have a menu that suits the occasion. From birthday parties to long lunches, dinner parties to garden picnics, our catering services are tailored to meet your needs. Invite friends over for a long-awaited catch-up and enjoy our Let's Brunch Platter, perfect for leisurely Sunday mornings spent chatting in the sunshine. Or, try our Sage & Onion "Sausage" Rolls, which are so good that even the pickiest of palates won't be able to tell the difference.
View Lets Brunch Platter
Custom Event Enquiry Form
Are you hosting a larger event or have custom enquiries. Get in touch using the form below. We'd love to hear from you!
Elevate your next event
At The Sustainable Food Co. we're passionate about our commitment to providing vegetarian catering that is as delicious as it is nourishing. Let us be a part of your next event and experience the magic of sustainable cuisine.